Join us at the Healthcare Design Conference & Expo Booth 1537
Are you ready to challenge
conventional interior
construction practices?
SO ARE WE.
For us, healthcare is personal. It's what drives us to push beyond the expected and dream up new ways to deliver better solutions. Insidesource's Integrated Interiors Studio was born to break down barriers - empowering healthcare facilities to envision a future of limitless possibilities. With a daring 'what if' mindset, we challenge conventional construction practices that limit adaptability and sustainability.

Technically superior healthcare products
Leveraging our strong relationships with best-in-class manufacturing partners, we customize products to cater specifically to the unique demands of healthcare facilities. Delivering superior quality and functionality.
Hands-on consultation
Our in-house STUDIO offers remarkable industrial design and a mindshare of technical expertise to realize your vision for prefabricated modular design that flexes to fit your needs.
Revolutionizing the way healthcare environments are built and operate
A future-proof healthcare building solution that is fully integrated, more operationally efficient, responsible, and sustainable than traditional construction.
Beyond for Healthcare
Prefab and Modular are not interchangeable terms. Beyond for Healthcare is designed differently from the inside out. Our Integrated Interiors Studio started with the most modular unitized panel system on the market and enhanced it as an integration point for vacuum plumbing, modular case goods, and medical equipment, exponentially expanding its potential for fast installation and easy reconfiguration. All the needs of healthcare interiors have been incorporated for a truly modular kit-of-parts that can help healthcare spaces adapt quickly to inevitable change.

Product Partners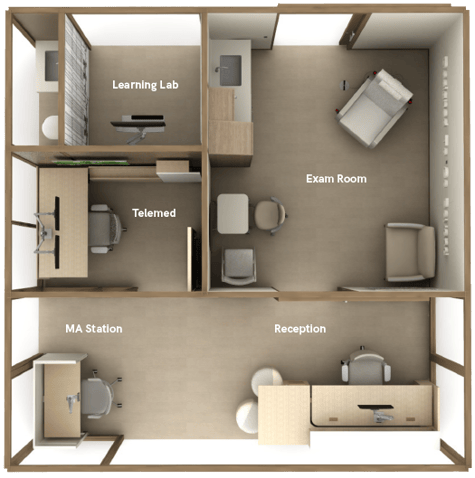 Our Integrated Interiors Studio Team
We are experts who believe the time is now for sustainable transformation. We are uniquely positioned to future-proof healthcare facilities through a consultative approach that disrupts conventional interior construction.